Lost Job, Few Resources, Amputated Leg
Larry's Story
A Mason Helped By Donations Like Yours
"I lost my job as soon as COVID hit. No one needed a ride. They weren't going anywhere. And then I quickly lost almost everything, except my car."

— Larry
In April 2021, Larry, age 71, spent most days in his blue Hyundai seeking food and a safe place to park for the night. His downward spiral began in 2019, when his job driving for Uber evaporated with little warning.
As an amputee, Larry's grim situation took on new levels for concern. In 2014, he fell while attempting to secure the family RV. With his leg broken in three places, he spent six months in a wheelchair. During that time, he battled continuous infections. Finally, his doctors advised amputation.
"I have a lot of determination about me," said Larry. "Ten weeks after the surgery to remove my leg, I was up and walking on my new prosthesis. I'm very independent and try to take care of myself."
However, Larry's grit and courage were not enough to sustain basic needs like food and shelter.
On a day when the things were particularly bleak after losing his job, he said, "I heard a voice. I think it was God saying, 'You're a Mason. There's a place for you.'"
"I felt better right away. I knew about Texas Masonic Retirement Community (TMRC). I got in touch with Gary Blair, the Superintendent. Keith Arterburn and the brothers at Krum Lodge helped me with the paperwork."
Life was not always so tough. Larry grew up in Dilley, a tiny south Texas community located about halfway between San Antonio and Laredo.
He attended Uvalde Junior College and Sam Houston State University. As a young man, he joined the Longview Police Department and later moved to the Gregg County Sheriff's Department.
Larry's involvement with Masonry began with his father's pride as an active Mason. While living in east Texas, Larry joined Longview Lodge #404 and participated in Shrine activities in Tyler. After moving to the Denton County area, he was active in Krum Lodge #1453.
"I know I've found the right place for me here at Texas Masonic Retirement Community," said Larry. "I get the help I need. Plus, I have lots of fun and the food is great!"
Want to make a donation to the No Mason Left Behind Project 2018? You can use our secure online donation service or print out and mail in a donation form. We look forward to paying tribute to your kindness and benevolence.  A complete list of recognition awards and amenities is included below the donation buttons and in the online donation form.
Donations from Lodges, Chapters, Councils, OES, and other Masonic organizations make a tremendous difference!
Check our Lodge Donation Summary for more information about donating and recognition for your Masonic organization
Recognition for Your Personal Donation
(Our donation year begins Sept. 1 and ends Aug. 31 of the following year)
$50 - $99 Membership Level Donation
You are honored with these recognition amenities
$100 - $499 Honor Level Donation
You are honored with these recognition amenities
$500 - $999 Tribute Level Donation
You are honored with these recognition amenities
$1,000 - $4,999 Legacy Level Donation
You are honored with these recognition amenities
 $5,000 or More - Regency Level Donation
You are honored with these recognition amenities
Your donation of any amount is appreciated and helps provide for Texas Masons and their loved ones.
If you prefer to mail your individual donation, just click below, print the form out and mail it back to us with your donation at the address listed at the bottom: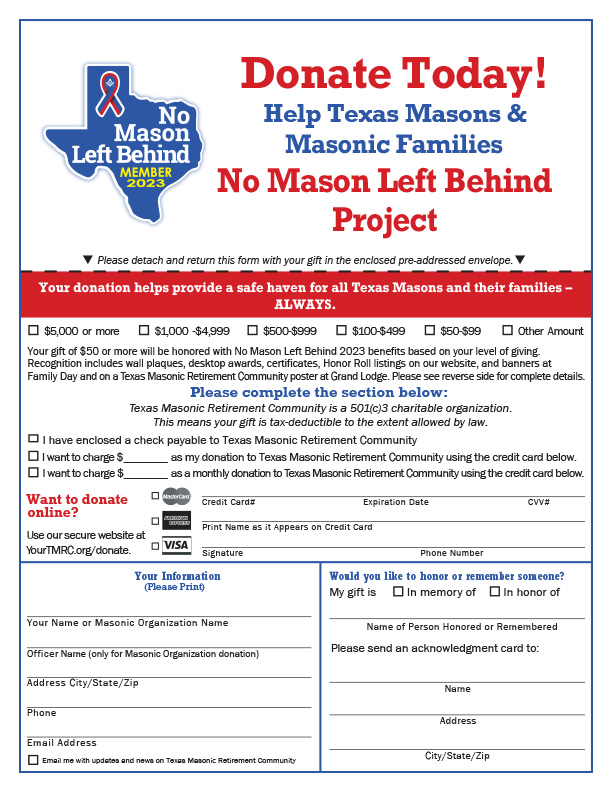 Amazon Smile Program - Donate With Every Amazon Purchase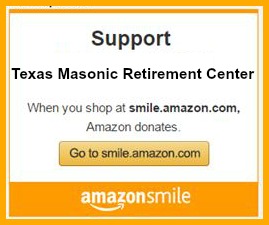 Purchase items on Amazon.com and a portion of your purchase can be donated to Texas Masonic Retirement Community. Sign up for the Amazon Smile program and help our residents.
Leave a Legacy - Planned Giving
For more than 100 years, gifts received through wills and other planned giving options have built a tremendous foundation of care for older Texas Masons and their loved ones.  We will be glad to visit with you personally to better explain the many options available for planned giving.  Feel free to call Gary Blair, Superintendent, at 817.275.2893 or send an email to gary@MasonicLiving.org.
Planned Giving Options:
Wills
Life Insurance
Securities/Stocks
Living Trusts
Remainder Trusts
Charitable Gift Annuities