Health Problems, Cannot Live Alone,
Unaffordable Housing
Judy's Story
Mother of a Mason Helped By Donations Like Yours
"My son, Charles Powell is a Master Mason. That made it possible for me to live here at no cost for the the rest of my life. I thank God I have a place to call home."

— Judy
Judy, age 80, answered a phone call from her frantic daughter two years ago.
"Mom, I've called over and over! Your personal alarm paged me and an ambulance is on the way. What is going on?"
"I had completely blacked out," explains Judy. "We figured out later that I had gotten up in the night, fallen, and hit my head on the shower door. Just before I became unconscious, I must have pressed my personal alarm button."
However, the alarm service routed the ambulance to a wrong address. With directions from Judy's daughter, first responders eventually arrived and transported Judy to the hospital.
After a few days recovering from the ordeal, she learned the new direction her life would take.
"The doctor told me I couldn't live alone any longer. It was just too dangerous.
I looked into senior living in Florida. The prices were far beyond anything I could afford.
Then my son, Charles Powell, a Master Mason living in Mansfield, Texas, said, 'Well, mother, I know you need a safe place to live. Let's see if we can get you into the Texas Masonic Retirement Community (TMRC). They accept relatives at no charge, if you qualify for eligibility.' "
With approval of her application, Judy moved into TMRC in November 2020. If she chooses, Judy may live the rest of her life in her cozy private apartment at no cost. This includes all meals, activities, medical care, and more.
"I've had two strokes since I've been here," says Judy. "They've taken great care of me through it all."
A woman of strength and purpose, Judy raised three children. She added to the family income as a waitress, cook, and in other food service positions. With her children grown and settled, Judy decided to see the world—as a semi-truck driver.
"I bought my own rig and worked as an owner/operator pulling 18-wheeler trailers up to 53 feet long. I drove in 48 states and Canada. People here love to hear my stories!"
Although she has significant health care challenges, Judy zips around on her scooter with a bright smile.
"I get up every morning and thank God I have place to call home. I go and I do. Tomorrow night we're going to Cleburne for a Marananth meeting. It's great living here!"
The No Mason Left Behind Project helps provide older Texas Masons and their qualified loved ones with all-inclusive 24 hour a day/7 days a week accommodations at Texas Masonic Retirement Community--including medical services and nursing care. The cost of these benefits exceeds $2.5 million annually.
Want to make a donation to the No Mason Left Behind Project? You can use our secure online donation service or print out and mail in a donation form. We look forward to paying tribute to your kindness and benevolence.  A complete list of recognition awards and amenities is included below the donation buttons and in the online donation form.
Donations from Lodges, Chapters, Councils, OES, and other Masonic organizations make a tremendous difference!
Check our Lodge Donation Summary for more information about donating and recognition for your Masonic organization
Recognition for Your Personal Donation
(Our donation year begins Sept. 1 and ends Aug. 31 of the following year)
$50 - $99 Membership Level Donation
You are honored with these recognition amenities
$100 - $499 Honor Level Donation
You are honored with these recognition amenities
$500 - $999 Tribute Level Donation
You are honored with these recognition amenities
$1,000 - $4,999 Legacy Level Donation
You are honored with these recognition amenities
 $5,000 or More - Regency Level Donation
You are honored with these recognition amenities
Your donation of any amount is appreciated and helps provide for Texas Masons and their loved ones.
If you prefer to mail your individual donation, just click below, print the form out and mail it back to us with your donation at the address listed at the bottom: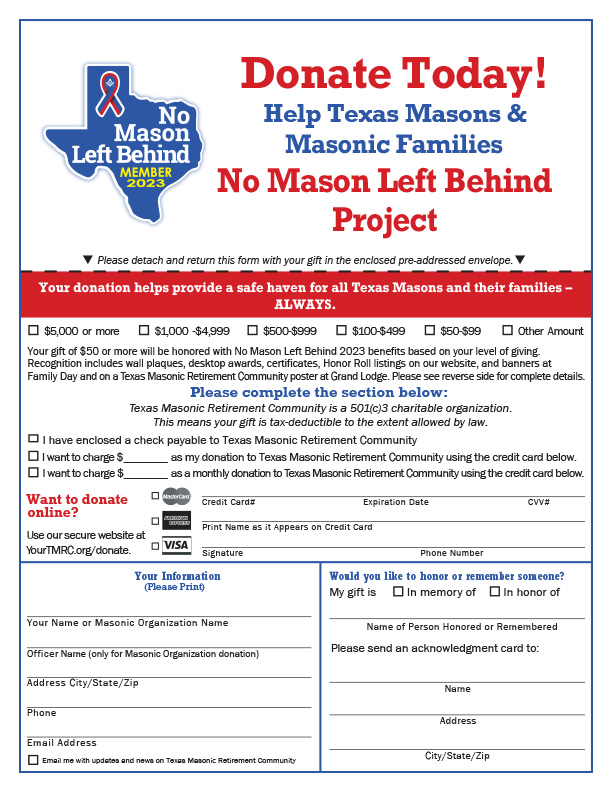 Amazon Smile Program - Donate With Every Amazon Purchase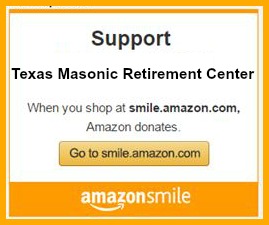 Purchase items on Amazon.com and a portion of your purchase can be donated to Texas Masonic Retirement Community. Sign up for the Amazon Smile program and help our residents.
Leave a Legacy - Planned Giving
For more than 100 years, gifts received through wills and other planned giving options have built a tremendous foundation of care for older Texas Masons and their loved ones.  We will be glad to visit with you personally to better explain the many options available for planned giving.  Feel free to call Gary Blair, Superintendent, at 817-275-2893 or send an email to gary@MasonicLiving.org.
Planned Giving Options:
Wills
Life Insurance
Securities/Stocks
Living Trusts
Remainder Trusts
Charitable Gift Annuities