Health Challenges, Savings Depleted, Far from Relatives
Jim's Story
A Mason Helped By Donations Like Yours
"My retirement funds ran low and my health care problems got worse. My son helped me move to Texas Masonic Retirement Community. I feel blessed living here." 

— Jim
At 92, Jim may qualify for the best dressed man at Texas Masonic Retirement Community. Sporting a blue blazer, striped tie, and alligator shoes, he talks with a can-do attitude developed years ago as a professional salesman.
He brings that same enthusiasm and dedication to Masonry.
"I'm proud of my 60-year pin," he says, handing over a recent photo of the presentation ceremony. "I've been a member of the Southside Lodge in Fort Worth for years. I'm a Shriner, too."
Growing up in Fort Worth, Jim attended the University of Texas in Arlington and in Austin. He left to go into medical equipment sales just a few credits short of graduating.
Always a life-long learner, Jim never gave up on his college degree. "When I was 62-years-old, I went back to college and finally got that diploma!" says Jim.
At the height of his career, Jim owned his own medical equipment company with exclusive rights to major manufacturer's products in the north Texas area.
Although he celebrated many successes in business, Jim endured the loss of two wives to cancer.
With the death of his second wife, Jim moved to Mexico and enjoyed the simple beauty of life south of the border for 15 years.
As his retirement funds ran low and health challenges worsened, Jim says, "I decided to return to Texas. My son made all the arrangements for me to move to Texas Masonic Retirement Community."
"I love it here!" he says with a big grin. "I come from a musical family. I sing in the choir here and even did a solo last week. And, I go dancing every chance I get!"
In a quieter voice, Jim shares, "I feel blessed being here. They're taking real good care of me. I plan to be right here enjoying myself for a long time."
Want to make a donation to the No Mason Left Behind Project? You can use our secure online donation service or print out and mail in a donation form. We look forward to paying tribute to your kindness and benevolence.  A complete list of recognition awards and amenities is included below the donation buttons and in the online donation form.
Donations from Lodges, Chapters, Councils, OES, and other Masonic organizations make a tremendous difference!
Check our Lodge Donation Summary for more information about donating and recognition for your Masonic organization
Recognition for Your Personal Donation
(Our donation year begins Sept. 1 and ends Aug. 31 of the following year)
$50 - $99 Membership Level Donation
You are honored with these recognition amenities
$100 - $499 Honor Level Donation
You are honored with these recognition amenities
$500 - $999 Tribute Level Donation
You are honored with these recognition amenities
$1,000 - $4,999 Legacy Level Donation
You are honored with these recognition amenities
 $5,000 or More - Regency Level Donation
You are honored with these recognition amenities
Your donation of any amount is appreciated and helps provide for Texas Masons and their loved ones.
If you prefer to mail your individual donation, just click below, print the form out and mail it back to us with your donation at the address listed at the bottom: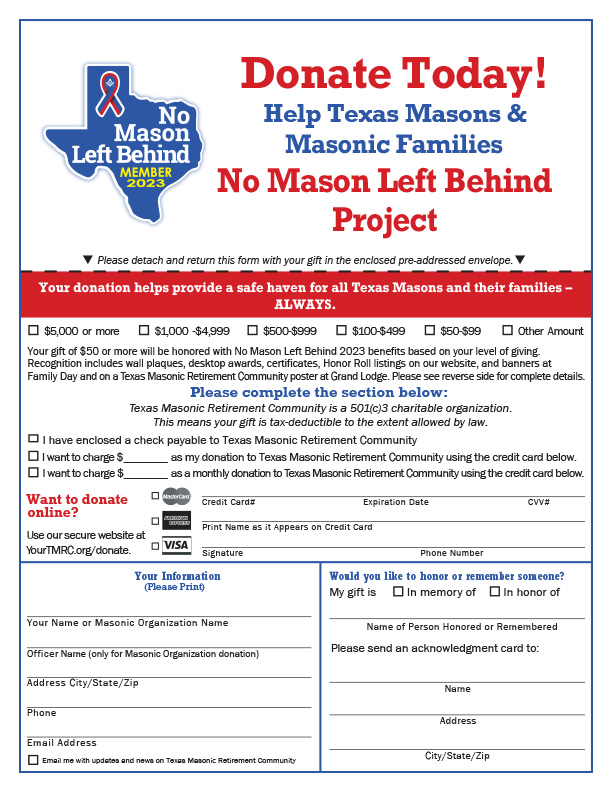 Amazon Smile Program - Donate With Every Amazon Purchase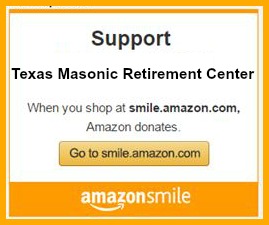 Purchase items on Amazon.com and a portion of your purchase can be donated to Texas Masonic Retirement Community. Sign up for the Amazon Smile program and help our residents.
Leave a Legacy - Planned Giving
For more than 100 years, gifts received through wills and other planned giving options have built a tremendous foundation of care for older Texas Masons and their loved ones.  We will be glad to visit with you personally to better explain the many options available for planned giving.  Feel free to call Gary Blair, Superintendent, at 817.275.2893 or send an email to gary@MasonicLiving.org.
Planned Giving Options:
Wills
Life Insurance
Securities/Stocks
Living Trusts
Remainder Trusts
Charitable Gift Annuities